Discover how Sage can help you write your own manufacturing story with this exclusive Manufacturing toolkit.
At Sage, we have been helping British manufacturers delight their customers for over 35 years. Take the first steps to discover how we can help by downloading this exclusive Manufacturing toolkit that includes: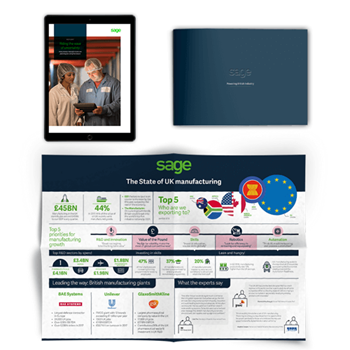 The State of UK Manufacturing infographic poster*.
'Loosen the status quo and move beyond ERP' eBook.
'Powering British Industry' eBook - customer success stories.
'Riding the Wave of Uncertainty' manufacturing report hosted by IDC.
*the infographic will be mailed out to you in due course.