Strategy, Legal & Operations
Finance Indaba 2022: Data, analytics, and future skills top on the Sage agenda
Finance Indaba 2022, Africa's biggest finance conference and expo, returns LIVE on 20 October 2022 at the Sandton Convention Centre after a two-year COVID break.
The Finance Indaba promises a wealth of sessions and exhibitors focussing on the digital enablement of your finance function. More than 3,000 CFOs, financial directors, accountants, business leaders, and professionals are expected to visit this world-class networking, learning, and career event.
Here's why you should, too.
Sage takes to the stage
As a Diamond Sponsor of the Finance Indaba 2022, Sage has two insightful talks lined up that you don't want to miss.
Finance skills of the future: Not all about finance
Sage research has found that 83% of finance leaders believe the industry needs a new breed of CFO—a future-focused strategist and advisor with unparalleled skills in real-time analysis, predictive modelling, and forecasting.
Roles and responsibilities evolve naturally over time, and the position of CFO is no exception. The digital transformation of the business landscape has resulted in new business expectations that necessitate a diverse set of skills that unlocks real-time insight and enables visionary leadership.
Finance leaders are increasingly recognising that finance skills aren't the only thing they need on their teams. Businesses today require the creative insights of artists, the technical insights of other science disciplines, the sustainability focus of ESG practitioners, and the technical skills of the next generation.
On this panel, Peterjohn Bishop, VP of Services, Partners, and Alliances, Sage Africa & Middle East; Mary-Anne Musekiwa, CFO of Coronation Fund Managers; and Zakariya Alli, CFO of Fasset, will discuss which skills are in high demand and whether finance is still the future of finance.
Join them in Ballroom 2 from 10:00 to 10:40.
Unlocking real-time insight: Master your data and analytic
From routine accounting tasks to month-end reporting, modern finance leaders are starved for time. To succeed, they need to transcend transactional day-to-day detail to unlock real-time, strategic insight for their businesses.
In this session, Sage explores key principles of financial analytics, important KPIs that empower smarter decisions, and the ways finance technology improves data quality—a foundational pillar of success.
There will also be an interactive live demonstration of Sage Intacct and how this native-cloud financial management solution addresses identified common business challenges, needs, and pain points.
Join Mohammed Mosam, Product Marketing Director, Sage; and Grant Ball, pre-sales expert at Sage, in Ballroom 4 from 11:00 – 11:40, where they'll discuss the innovative technology that gives finance leaders the visibility, flexibility, and efficiency to manage finance, operations, and people.
If you need a break from the sessions, we have great coffee and conversation at our exhibition stand (Stand 21), so feel free to come over and meet the team behind the tech.
You can also play around with our industry-leading solutions, Sage X3 and Sage Intacct.
Auditor General to deliver Finance Indaba 2022 keynote address
Tsakani Maluleke, Auditor General of South Africa, will deliver the keynote address, explaining why and how the finance profession should be a cornerstone of economic and societal progress.
She'll also provide practical examples of what finance professionals can do to set an example for their teams and organisations and how they can contribute to building a more inclusive and equitable South Africa by developing the talent of tomorrow, driving sustainable business, advancing standards and regulation, transforming the public sector, supporting entrepreneurial growth, and strengthening ethics and trust.
Boasting an incredible line-up of speakers, partners, and a top-tier programme, this year's Finance Indaba will be one for the books!
Other notable speakers and topics:
Finance's REAL role in transformation: Change starts at the finance function, with Kada Phiri, Business Development Manager at ACCA Southern Africa; Manenzhe Manenzhe, CFO North West Legislature; and Mazvita Maradzika, MD at Selective Empowerment Investments 1 Limited.
True to yourself: The making of authentic leaders, with Bongi Ngoma, the national head of audit at the Auditor-General; Brad Wentzel, CFO of Douglasdale Dairy; and Averen Deonanan, CFO at the Flight Centre Travel Group.
New reporting methods require future-proof reporting standards, with Hennie Viljoen, XBRL specialist at the CIPC; Nienke Kruger, product manager: financial reporting at Adapt IT; and Cuma Zwane, an investigator at the CIPC.
The future of financial planning and consolidation: Embrace digitalisation, with Shanna Jardim from Insight Consulting.
Eliminate the guesswork with data-led performance management, with Julius Mojapelo from The Institute of Internal Auditors SA.
The four pillars of modern finance: How to become a chief value officer, with Stefan van Heerden and Welela Dawit from Microsoft.
WTF next, economy? Examining the global and local factors shaping South Africa's finances, with Dirk Mostert from CFO South Africa.
How ESG is driving business: Sustainability delivers value, with Arno Daehnke, Dzunani Makgopa, and Sean Doherty from CFO South Africa.
Future gazing: Beyond bitcoin and into the world of decentralised finance, with Steven Sidley from CFO South Africa.
Live entertainment with Joey Rasdien.
If you haven't already, be sure to book your seat at the not-to-be-missed finance event of the year.
Finance professionals can apply for a free pass here.
Or book your delegate pass here.
Download the programme here.
Recommended Next Read
Sage Intacct
Discover how Sage Intacct takes the stress away and can make financial management fun and empowering.
Find out how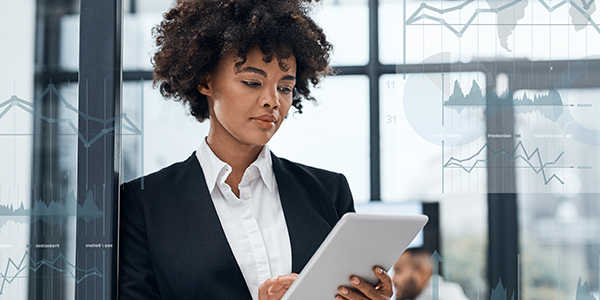 Subscribe to the Sage Advice enewsletter
Get a roundup of our best business advice in your inbox every month.
Subscribe