Money Matters
Managers of the future – magic happens when technology blends with people and processes
Contemporary business managers and leaders are required to keep a lot of balls in the air. These range from managing the fallout of the ongoing COVID crisis, keeping ahead of technology changes, aligning with environmental, sustainability and governance (ESG) imperatives, driving diversity and inclusion, managing a growing compliance burden, and addressing a more demanding customer base while remaining emotionally intuitive about peoples' needs. All while keeping an eye on the bottom line.
Given these challenges are complex and cross organisational boundaries, today's managers can no longer stay within a functional silo-like finance, marketing, HR, or operations. They need to collaborate in a multi-disciplinary environment, with the ability to combine reporting, analytical, and strategic thinking skills into a single package.
Moreover, they also need the human touch by using this time to upskill, retrain, recognise and grow subordinates, and be good people managers to become powerful change agents across their organisation.
It's a challenging job, but business success depends on managers making strategic choices to drive stability, growth and sustainability in the long-term for the business's survival. Equipping staff with the correct data to analyse the abundance of information at their fingertips puts them on the inside track to success.
Traditionally, managers have taken a largely reactive role in business information. They made decisions by looking in the rear-view mirror, basing their judgments on historical data and gut instinct. However, recording real-time data generated from internal sources gives them a new way to create value, look ahead, and support their judgments with data.
Current data and predictive analytics solutions allow managers to see forward instead of looking back. This enables business leaders to determine immediate and long-term challenges and opportunities before they occur. For example, they can more accurately predict when employees or customers may leave and retain them.
New and emerging tools like artificial intelligence (AI) and robotic process automation (RPA) enable companies to analyse their data faster and gain richer predictive insights. These technologies allow the management and processing of vast datasets to be analysed in seconds – something that would take humans months to understand or collate.
Data stewards and predictive analysts
The emergence of these tools and technologies is creating a new role for modern managers as data stewards and predictive analysts. This new breed of data expertise gives managers more extraordinary power to innovate in their departments. In turn, they empower the business to adapt faster, take opportunities, be more responsive and flexible, and effectively manage operations under strain.
This transformation isn't without its challenges. New responsibilities around cybersecurity and data protection are increasingly falling under line manager and senior manager portfolios. Many are struggling to contend with data governance and management at a time of significant change. They're also spending as much time collecting and preparing data as they are analysing it.
The prevalence of legacy systems and a lack of automation are limiting overall productivity. As a result, 78% of business leaders feel they are wasting 360 hours a year on tasks that could be automated. Spending more time on the basics of data management leaves managers with less time to carefully consider critical decisions.
Organisations thus need to streamline data governance and management. The integration of front- and back offices is critical for collaboration, agility, and flexibility. Only when a united environment is created can businesses help managers juggle their responsibilities. Automation can also help shift the burden of repetitive data management processes to computers while still ensuring quality.
Transformation is a team effort
The future of business is not about replacing human talent with machines designed to do what humans do. The goal must be to augment managers with the skills and technologies they need to do their jobs faster and more efficiently. The magic happens when technology blends with people and processes, delivering frictionless business outcomes.
The collaboration of robotic efficiency with human talent and judgment will give organisations the power to meet disruption head-on. It will enable businesses to respond quickly to changes based on data-informed decision-making. Using predictive analytics to foresee challenges and capitalise on opportunities, a new breed of manager will be integral to business success and continuity.
However, it's vital that business leaders give managers and their teams access to the technology they need to work with speed and agility. Only then can they dovetail with all other facets of the business to drive growth and competitive advantage. Technology is the enabler, but talent remains a business's most powerful asset.
CFO 3.0: Digital Transformation Beyond Financial Management
Discover how CFOs are playing a key role in leading the digitalisation of medium-sized businesses and learn how to move from a 'historian' to a 'visionary' within your business.
Download the whitepaper
Recommended Next Read
Sage Intacct
Discover how Sage Intacct takes the stress away and can make financial management fun and empowering.
Find out how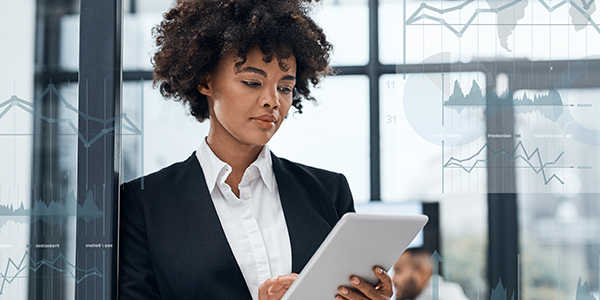 Subscribe to the Sage Advice enewsletter
Get a roundup of our best business advice in your inbox every month.
Subscribe