Technology & Innovation
[Webinar] How finance leaders are using technology to advance the future of finance
Finance leaders are under immense pressure to adapt to the digital age, particularly in response to the COVID-19 pandemic. Over the past 18 months, businesses have rapidly upped their adoption of advanced technologies, also known as Industry 4.0, to safeguard their competitive advantages and meet increased demand for their services – and finance leaders are leading the charge.
Businesses want to make better, more informed decisions to boost their profitability. As part of its Future of Finance series, Sage recently hosted a webinar to discuss how finance leaders are reshaping technology to perform better in their roles. The panel discussion highlighted the incredible evolution of CFOs who are now responsible for an organisation's financial health and for enabling its company-wide digital transformation.
Gerhard Hartman, Vice President of Medium Business for Sage Africa & Middle East, opened the webinar with a powerful statement that set the scene for a discussion around digital transformation, particularly the benefits of cloud solutions for medium-sized growing businesses.
"Over the past months, we've seen companies that have evolved their technology to cloud software enjoy more success than their peers. Successfully leveraging advanced technologies such as AI, cloud computing, automation, and machine learning correlates with significant revenue growth."
 Enthusiasm vs hesitancy
The webinar's attendees were asked to share their views by responding to poll questions. In answering the first poll, an encouraging majority (64%) of respondents said they recognised the business benefits of adopting cloud software. There is no doubt that the disruption caused by the pandemic is fuelling this growing awareness and adoption.
"I'm not surprised by the poll result," said Hartman. "Before the pandemic, most of us were used to an in-person working environment that allowed for easy access to people and information. Almost overnight, that on-site access was gone, and we've had to quickly embrace new ways of working together and connecting to maintain our performance."
And yet, as the poll results also indicated, 36% of respondents are unaware or unsure of how cloud software can benefit their businesses. In other words, there is still some hesitancy among South Africa's financial leaders when it comes to accepting change and addressing it through digital empowerment. This puts them at risk of falling behind a rapidly evolving marketplace and missing the chance to be actively involved in designing the future of finance.
Jordaan Burger, Vice President of Finance for Sage Africa, Middle East & APAC, weighed in on the discussion around hesitancy with an interesting perspective.
"Cloud software existed before the pandemic, but its benefits were a much tougher sell. Now, due to lockdowns and remote working needs, the benefits of the cloud are far more tangible and urgent. But – and this is crucial – things won't return to how they were pre-pandemic; our working world has changed permanently and it's important that finance functions are a key part of this change."
It's (not) all about technology
The next poll revealed an almost 50/50 split in respondents' views on digital transformation: 52% said it's all about technology, and 45% believe it helps humans more than it harms them.
Smart financial solutions must reinforce the latter by highlighting the power of digital technologies and tools to augment human workforces through education and awareness. At the end of the day, advanced technologies are only as good as the people that drive them.
So how do we get more finance leaders and finance functions engaging with digital transformation?
"Think back to the days when only some of us had film photography cameras – and only a few could put them to good use," says Burger. "Nowadays, digital photography has increased accessibility, created new jobs and roles, and more of us are not just taking photos; we're taking better ones too. Digital transformation of any kind needs to be so compelling, inclusive, and benefit-driven that resistance is futile and simply self-sabotaging."
More than just number-crunchers
Debbie Kapoock, founder and director of Macarius, is a professional business coach and mentor, as well as a consultant coach at the Gordon Institute of Business Science (GIBS). With a background in accountancy, Kapoock spoke of the enormous need for today's finance leaders and finance functions to drive their businesses' strategic direction.
"As finance people, we'll always be crunching numbers, but now digital technologies can help us do it with greater speed, accuracy, and learning. The right smart software can reveal volumes of relevant data insights, translate them into real-time action, and share them with us, the finance people, to make swift, strategic decisions that push our businesses ahead."
The list of benefits goes on, and all three webinar panellists agree that they should be shouted from the rooftops to encourage those who are lagging in their digital transformation journeys to pick up the pace. In terms of cloud-based financial software such as Sage Intacct, the following three benefits have proven to be invaluable for many of today's finance leaders.
Data access from anywhere, at any time, to ensure uninterrupted performance.
Data backed-up off-site to reduce risk of loss due to events such as theft and fire.
Enhanced cyber-security to always protect data and users and address vulnerabilities without any business disruption.
Educate upcoming leaders
In addition to punting the benefits of digital transformation, Hartman mentioned the vital need to educate upcoming business and financial leaders about the changing world of work. While digital technologies are widely used in our personal lives, there is insufficient training in smart solutions within businesses or at the tertiary education level.
"There is a mismatch between what the digitally empowered working world needs and the skills that exist. In many ways, this contributes to the hesitancy around adopting new technologies or even the suspicion it could lead to job loss. Businesses need to include their people in their digital transformation journeys and invest in their employees' digital competencies through ongoing upskilling and training. Similarly, Technikons and universities need to align their course material with reality: we don't need more accountants per se, we need more digitally empowered, strategically geared finance leaders and teams." 
Webinar: Technology and the Future of Finance
The Sage Power Sessions explore the why, how, and actual benefits of businesses embracing the future of finance today. In this session discover how finance leaders are using technology to advance the future of finance.
Watch now
Recommended Next Read
Sage Intacct
Discover how Sage Intacct takes the stress away and can make financial management fun and empowering.
Find out how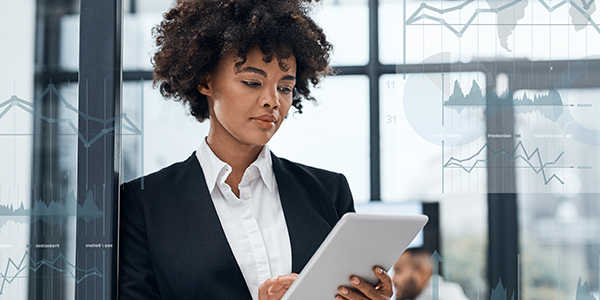 CFO 3.0: Digital Transformation Beyond Financial Management
Discover how CFOs are playing a key role in leading the digitalisation of medium-sized businesses and learn how to move from a 'historian' to a 'visionary' within your business.
Download the whitepaper
Subscribe to the Sage Advice enewsletter
Get a roundup of our best business advice in your inbox every month.
Subscribe