Trends & Insights
Future of Finance: Top advice from the experts
As the rate of COVID-19 infections drops and more people get vaccinated, the world is settling into a new sense of "normalcy". That said, we've already developed, implemented, and adapted to new, more innovative processes and ways of working.
In a series of Future of Finance webinars, Sage spoke to various accounting and finance experts about how they've adapted to new technologies and ways of working and how it's influenced their current operations.
Here, we round up the top advice from the experts.
"Companies enjoy more success with cloud software."
In our 'How finance leaders are using technology to advance the future of finance' webinar, Gerard Hartman, Vice President of Medium Business for Sage Africa and the Middle East, discussed digital transformation and how medium-sized growing businesses can benefit from cloud business management and accounting solutions.
"Over the past months, we've seen companies that have evolved their technology to cloud software enjoy more success than their peers. Successfully leveraging advanced technologies such as AI, cloud computing, automation, and machine learning correlate with significant revenue growth," says Hartman.
Jordaan Burger, Vice President of Finance for Sage Africa, Middle East, and APAC, weighed in: "Things won't return to how they were pre-pandemic; our working world has changed permanently, and finance functions must be a key part of this change."
Ultimately, intelligent financial solutions make human tasks more efficient; they will not replace humans entirely, he said. "Digital transformation of any kind needs to be so compelling, inclusive, and benefit-driven that resistance is futile and simply self-sabotaging," says Burger.
Debbie Kapoock, founder and director of Macarius and consultant coach at the Gordan Institute of Business Science (GIBS), stressed the need for today's finance leaders and finance functions to drive their businesses' strategic direction. "As finance people, we'll always be crunching numbers, but now digital technologies can help us do it with greater speed, accuracy, and learning."
She adds: "The right smart software can reveal volumes of relevant data insights, translate them into real-time action, and share them with us, the finance people, to make swift, strategic decisions that push our businesses ahead."
As digital transformation spreads across the vast business and financial space, there's still one challenge left to address: the vital need to educate business and financial leaders about the changing working world. There is a significant lack of training in intelligent solutions within businesses or at a tertiary education level, says Hartman.
"There is a mismatch between what the digitally empowered working world needs and the skills that exist. Businesses need to include their people in their digital transformation journeys and invest in their employees' digital competencies through ongoing upskilling and training."
"Replacing manual processes with digital ones puts people first."
A significant concern for many industries is the fear that digital transformation and automation will lead to job losses. However, technology makes jobs more manageable, reduces time-consuming processes, and leaves more space for productivity and opportunity.
During our 'Human-centric digital transformation: A blueprint for success' webinar, we discussed how digital transformation is more about helping people than replacing them. "Digital transformation should be an 'all-inclusive metamorphosis' whereby you are digitising business processes to improve human work," said Mohammed Mosam, Director of Sage AME.
Ultimately, digital transformation is about changing how people, technology, and processes interact. Integrating all three components will lead to better outcomes within the business and improve the lives of humans.
Mosam and Yudhvir Seetharam, Head of Analytics, Insights, and Research at FNB Commercial, advised on how to get human-centric digital transformation right.
Understand your ecosystem
For change to happen successfully, you need transparent insight into your existing processes so that you can identify inefficiencies and areas for improvement. "This business audit is essential for larger businesses because there are countless moving parts to consider," says Seetharam. "If you scrutinise your business processes, you'll be amazed where you're wasting time and resources. Once you've identified these stumbling blocks, ask yourself what small changes you can implement to make a significant impact."
Start small
As with any type of change, you can't rush into it and change everything at once. Start small and work your way through the adaptation process. "Start by streamlining a single business process," says Mosam. "For example, in implementing a digital document management system that allows for electronic sign-off, you'll remove a huge amount of inefficiency."
Consider the 'why'
"Are you [embarking on digital transformation] because you want to increase efficiency across your business? Are you doing it because you want to have a better relationship with your customers?" For FNB, it was both, says Seetharam, adding that the human side of the bank's digital transformation strategy aims to improve processes internally to benefit the experience externally.
"You might be good at reducing internal efficiencies, but if your customer isn't gaining anything from these efficiency gains, what's the point of doing so?"
Knowing the 'why' gives you a clear goal and motivation to see the change through says.
Rope in finance
CFOs play a crucial role in business transformation and helping the business use technology to uncover new opportunities and mitigate risks. For human-centric digital transformation to succeed, senior financial decision-makers must prioritise budgets and technology investments while considering how their spending can help people work smarter, faster, and more efficiently.
Download our CFO 3.0 whitepaper to learn more about digital transformation beyond financial management.
Don't be afraid to challenge norms
"COVID-19 accelerated digital transformation for many businesses, forcing us to do things we would never have considered doing in the past," says Mosam.
Before the pandemic, financial services companies and businesses would visit clients' offices to sign documents. Now, the entire process is digitised. "I'd drive all the way there just to sign a document. We never questioned how we were doing things or thought it was inefficient because it was just the norm. In so many ways, COVID has challenged and transformed what we thought was possible," he adds.
Use saved time effectively
Digitisation and automation will free up a ton of time in the workplace. However, if you want these new and improved changes to make a real impact, you need to use the extra time to focus on strategy and where you can add value.
Seetharam explains: "Here, human-centric transformation is about developing strategies to deliver what your customers want. It's no longer about optimising stuff; it's about disrupting stuff. Human-centric transformation aims to free up time so that you can focus less on the administrative side of your business and more on the strategic side."
Real innovation is only possible with the right technology, strategy, and people, he says.
"Auditors still perform a critical role in protecting our public interest."
In the Audit-ready financials: The way to reconciliation webinar, Jordaan Burger, VP Finance, Sage Africa, Middle East, and APAC, and Bradley Wentzel, CFO of Douglasdale Dairy, discussed how finance teams could maintain audit-ready financials.
"In the end, that two-page audit report is relied upon by lenders and shareholders to make decisions which, in turn, impact the business. So, it's important that we as finance professionals do everything possible to make it easy for auditors to give us a clean opinion," says Burger.
It's no secret that audits are time-consuming due to fragmented, manual accounting processes and record keeping. Inadequate systems lead to inaccurate or incomplete information, which is one of the root causes of many auditing rifts.
"Not long ago, there were instances where the auditor would choose to build consolidated statements from scratch rather than use the confusing spreadsheet the business had compiled," says Burger.
He adds: "Digitise your workflows to give the auditor comfort that your accounting checks and balances are robust. This potentially reduces the time they spend on substantiative testing of your transactions." He recommends always being upfront with your auditor about any assumptions or used estimates and closing your accounts efficiently at month-end to be better prepared at financial year-end.
He also stresses the use of cloud business management and accounting solutions. Apart from all the other benefits, cloud-based software also improves the audit experience. Simply give your auditor read-only access to the relevant data, and they'll be able to audit every transaction and find supporting documents without a hassle.
"The longest our bank account goes without being reconciled is three days. And that's usually over the weekend," says Wentzel. He says it's crucial to have transparency between the finance team and the rest of the business. The better the communication, the more likely it is to have an effective accounting process from the get-go.
Wentzel's advice is this: "Make sure you choose an audit partner who understands your business. The audit process will flow better if they know what you're trying to achieve. In that guise, an audit can be a value-add experience for your business."
Although digital transformation makes processes more efficient, Jordaan recognises that implementing a new accounting or payroll system is a big decision. "One of the key considerations is whether the potential software provider's technology integrates well with the other systems you're using in your business. Be sure also to consult your peers about which service providers they're using, how happy they are, and what the system implementation entailed."
"Overcoming the pandemic depends on wise, foresighted decision-making."
During the 4 major shifts driving the Future of Finance webinar, Bronwyn Williams, economist and trends analyst at Flux Trends, stressed that individuals and businesses need to think further ahead.
"To get a better idea of where the world is headed, we need to understand the deeper macro trends driving human behaviour, such as a desire to connect with other people and to progress. These drivers will never change," says Williams.
She adds: "Maybe going back to the workplace isn't going to be nine-to-five, in your cubicle, like it was before. But that doesn't mean that we're going to stop connecting in person. We're still going to get together and break bread; it just won't be as easy or as often as it was at the office."
So, how can we meet halfway? How can businesses shift their thinking and approaches when it comes to addressing humans' needs for connection?
Williams suggests starting with four shifts:
Shift from on-demand to anticipatory business models
"You have to meet your clients, suppliers, or whoever you're dealing with in your supply chain at their point in need, rather than expecting people to come and find you or ask you for information."
This means moving away from just-in-time operations and combining science, technology, and humanity. Williams recommends dealing with real-time data from cloud business management and accounting solutions, like Sage Intacct. This way, financial decision-makers can pre-empt and avoid mistakes.
Shift from sustainability as an afterthought to a deal-breaker
"When we talk about sustainability, it's usually about reducing waste, consuming less, and ensuring we don't overshoot our natural resource endowments. But that's just one component; the other is about social sustainability."
Williams explains that businesses realise that they can only thrive in a society that's also thriving. She says that environmental, social, and governance (ESG) business models and investment structures are gaining prominence, which is currently the most significant long-term shift.
Shift from siloes to hyper-connections
"If CFOs want to be proactive against change; if they want to anticipate opportunities and be forewarned against emerging threats; they must start looking outside of their individual and organisational siloes."
Williams states that there has been a major change in the CFO's role. She warns that if organisations don't break down siloes, they might lose resiliency and the ability to spot emerging threats. Although breaking down siloes is easier said than done, she says businesses can guard against the formation of siloes by connecting more nodes within and outside the organisation. "The more nodes, or connections, you have across departments, and at all levels of the organisation, the more resilient your network becomes."
Her advice is to aim for '3D diversity' in the recruitment process. "3D diversity goes beyond demographics and extends to hiring people with different viewpoints, experience, and backgrounds."
Having a hybrid diversity in your team will help you better spot emerging opportunities and threats. Organisations should focus on developing communication, leadership, and selling skills.
Shift from fearing tech will replace us to embracing it to make us better
"Technology allows us to operate more efficiently by automating anything that slows us down or is seen as a cost centre in the business," says Williams.
As much as technology and automation take away certain human functions, they can't replace human beings in society. She adds that there will always be space for people to add value through creativity.
Williams says that CFOs should try to remove any tasks that can be automated from their roles. Not only will it give them a bird's eye view of what's going on, but it will also give them more time to look out for threats, blind spots, and opportunities.
Her advice: "Use technology to get rid of your pain points – stuff you hate doing, the nonsense, the annoying work." This will change the nature of the work rather than replace humans. With automation, the people in your business can add more value to tasks that can't be automated.
She stresses that you should never automate the functions that are value-based because they can easily be copied. Instead, automate the menial tasks and let your humans add extra value with the newfound time technology saves.
Sage Intacct
Discover how Sage Intacct takes the stress away and can make financial management fun and empowering.
Find out how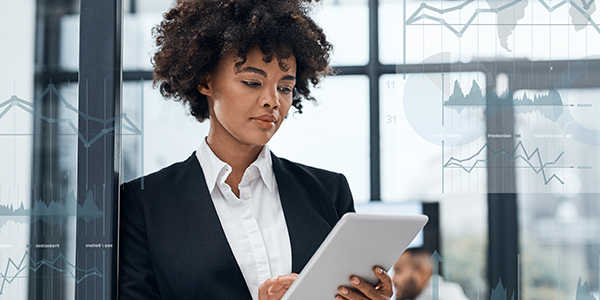 Subscribe to the Sage Advice enewsletter
Get a roundup of our best business advice in your inbox every month.
Subscribe