Research
Why storytelling is a skill senior financial decision-makers need to harness in 2022
According to a recent Sage survey, more than half (55%) of respondents agree that COVID-19 has caused permanent and irreversible changes in how they do business. These changes affect all aspects of the business, including finance.
The pandemic has highlighted the value of, and need for, better financial technology and cloud accounting. Around 94% of survey respondents believe that they waste time collecting and manually inputting data. The survey findings also show that traditional financial systems are simply too disjointed and fragmented to provide teams with the information they need, when they need it, no matter where they are working.
Luckily, cloud accounting and business management solutions enable them to access a wealth of business and customer data from anywhere – and then leverage this data to make more informed decisions.
Cloud-based business management solutions transform the finance function by:
Automating repetitive tasks,
Upping efficiencies,
Boosting data security,
Enabling real-time access to data, and
Minimising data inaccuracy.
According to the survey findings, some of the major drivers behind the planned adoption of cloud systems include broader team awareness and accountability, improved audit trails, greater team productivity, and secure data storage and processing.
When cloud accounting solutions are implemented correctly and staff are appropriately trained, senior financial decision-makers have more time to focus their attention elsewhere.
So, where should they be directing their energy?
From number-cruncher to storyteller
By now, you've probably heard people say that data is the new oil, implying that data is exceptionally valuable. But the adage also means that data, much like oil, isn't of much value in its raw form. Data is only powerful once it has been properly analysed and refined.
Today, finance executives and CFOs have been given a chance to reinvent themselves. They are increasingly being asked to take a seat at the decision-making table, using their financial savvy and knowledge of the company's books to help steer the business through ongoing uncertainty. More and more, key business stakeholders are looking to finance leaders to help them transform their operations using accurate, relevant, and reliable insights that highlight opportunities and mitigate risk.
For modern finance professionals, this entails learning how to use their data to paint a picture of where the organisation stands. They then need to develop a narrative to showcase how the company can grow and thrive into the future. Becoming a financial storyteller means complementing more analytical and methodical ways of thinking (a left-brain activity) with a creative way of approaching a problem (right-brain thinking).
A storyteller and digital transformation buff
In 2020, Sage released the CFO 3.0 research white paper. This report detailed the rise of digitally savvy senior financial decision-makers who have used cloud accounting and the latest tools and technologies to mitigate the disruption caused by the pandemic.
Within their own departments, recent survey results show that digital transformation and digitisation is high on the financial leadership agenda as finance teams acknowledge that continuing to use old and outdated accounting software could cause them to lose their competitive edge.
As such, the finance professionals of tomorrow need to understand the value of technology and digital transformation, and they need to learn how to use the data generated by these emerging solutions to tell stories.
How do you turn data into stories? We unpack a few tips below.
Detail the context
Context is critical. If someone were to say to you that the cat sat on the mat, you probably wouldn't think much of their story. But, when they add context – the cat sat on the dog's mat – they're giving you additional information, which has the potential to make the story a little more interesting.
This is what financial professionals need to do with data. Context is about explaining why something is happening or why it is important. Numbers and data must be put into context for people to make sense of them. To get this right, finance professionals need to understand their audience's pain points and problems. They must then use the data they have to tell a story that is especially relevant to the people in the room.
Draw comparisons
Comparisons help you understand how a change can affect an outcome. Data comparisons can prove incredibly valuable for finance leaders as they illustrate the return on an investment. Graphs are a great way to add a visual element to your story because they show how datasets relate to each other.
If, for example, the finance team opts to use cloud-based software instead of doing basic accounting jobs manually, it would be easy to tell a story about the success of this decision using data. A simple comparison of how much time it took to complete a task in each scenario will highlight which way of working is most efficient.
Identify trends
Insights rarely emerge from a single data point. You need to bring different data points together to understand what the information means. Data trends indicate how something is changing or developing over time. When patterns emerge in data, these insights can be used for forecasting and planning.
Data trends inform how the business responds to, and prepares for, what lies ahead. An accountant could analyse recent expense claims to better understand where employees are spending their money, for example. Once you have a detailed analysis of expense claims for a specific period, it also becomes easier to spot anomalies, flag unusual expenditure, and identify areas to trim the fat.
The aim of telling stories with numbers is to use data to help the business make better decisions and get the rest of the stakeholders to buy into that vision.
Want to find out more about the evolution of financial leadership? Download our latest white paper here.
[White paper] – The Digital CFO
Tracking financial leadership's transition from corporate number-cruncher to strategic storyteller
Download the white paper
Recommended Next Read
Sage Intacct
Discover how Sage Intacct takes the stress away and can make financial management fun and empowering.
Find out how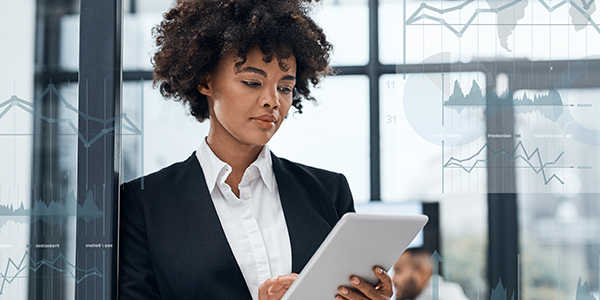 Subscribe to the Sage Advice enewsletter
Get a roundup of our best business advice in your inbox every month.
Subscribe