Hoxo Media CEO Sean Anderson on funding and building a great team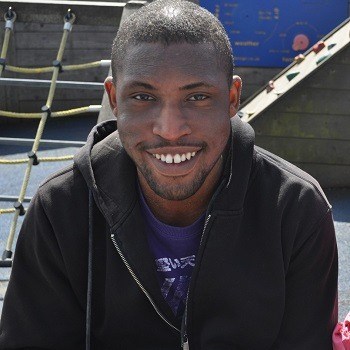 Starting a business can be an exciting time. A spark of an idea is turned into an actual thing that has the potential to grow and change the lives of the person or people behind it, and the customers who benefit from it.
But what about the challenges of running and growing a business? Finding clients? Finding funding? Getting too much work and needing more staff? Basically getting the balance right? Running a business can be a juggling act but with the right vision, planning and structures in place, it's possible to keep building and keep moving.
Sean Anderson is living and breathing all the challenges and triumphs highlighted above. He started Hoxo Media, a marketing and social media agency based in London that offers services to recruitment agencies, in 2017 with two friends after having a burning desire to run his own business.
As the chief executive of Hoxo Media, Sean is tasked with bringing the firm's vision to life and he oversees the company's leadership, client onboarding and business strategy. And lots of other things in between too.
But how did he get to where he is now? "I was quite a successful recruitment consultant and I was going to start my own recruitment business because that's typically what a lot of recruiters do," says Sean at a Big Youth Group event in London. "If they work for a firm, they do quite well, they make a lot of money then they spin off and create their own brand."
Seeking business advice
So the desire to create something of his own was clear. But he needed some advice to set him on his way. Turning to his own network, there was someone who could help.
"I met with a friend who I grew up with who was in marketing to ultimately ask him how he would help me as a start-up business owner," says Sean. "I already had a business partner set up, so the two of us went to say: 'Well, look, what would you do for us?'
"I did a lot of research and I couldn't find another digital marketing or social media agency that was completely dedicated to the recruitment industry" – Sean Anderson
"He went through stuff he did with his previous employer where he helped their internal headcount grow from one to 600 staff over five years using marketing techniques. I got really excited."
Sean kept that conversation close to his heart, with it fuelling his desire to start his business. He knew he wanted to launch his recruitment firm but the chat had opened his eyes to the possibilities of marketing and social media.
"I did a lot of research and I couldn't find another digital marketing or social media agency that was completely dedicated to the recruitment industry," he says. "With the knowledge I had, coupled with the knowledge my partner had, I thought 'there's something in this'."
So he took a leap of faith and quit his job. He wasn't the only one… "So I basically convinced them both [his marketing friend Mark Priest and his friend/business partner Amar Chohan, now chief marketing officer and chief operating officer at Hoxo Media respectively] to quit their jobs," says Sean.
"I said: 'Look if we mash our skills together, I think we've got a really unique blend of skills.'"
Finding the funding to start the business
When you start a business, funding your operation is a key consideration. For Sean and his partners, they used their own money. He says: "Hoxo Media is self-funded, to date. We saved a lot of money, we were in sales for a long time, so we had some funds behind us."
As an agency, Sean says the barriers to entry and the financial requirements were low. "We put a couple of grand in each, we bought a couple of Macs and we got a shared service space and then we went for it."
Essential tip
If self-funding isn't an option for you, there are other ways you can fund your business. You could try asking your bank manager for a loan. If that doesn't work, try looking at an alternative funding option, such as crowdfunding or a venture capital trust. You could apply for a number of government grants, turn to angel investment or even borrow money from friends and family.
Guide to alternative funding
Discover 10 sources of funding for your business and how to apply in our essential guide for startups and small businesses.
Get your free guide
Learning the ropes
It doesn't matter whether it's your first business or your tenth, there will always be challenges to face. For Sean, they have come thick and fast. One of the first ones he faced was due to him not having worked in marketing before.
He says: "I came from a recruitment background, so to actually communicate with the industry was easy. I knew their business challenges but I'd never actually worked in marketing, so I was relying heavily on my business partner's knowledge."
As the face of the company to the client base and the person selling the vision, it was a challenge that Sean had to work with his team to overcome.
Then there was the problem of being a new company. "Early doors no one knew who we were and even today, I still think a lot of the industry doesn't really understand what we do because marketing is often an afterthought in a lot of these sales-driven firms," says Sean.
"There's a huge education piece that we go through on a daily basis, so you spend a lot of time explaining it – then there's nothing at the end of it. But it's all part of the fun."
Dealing with profits and people
And there was the issue of growing the business. The company got off the ground pretty quickly but that opened its own Pandora's Box. The questions consuming the team included "are we charging enough money?", "how do even calculate profit in a business like this?" and "have we got the people to deliver on this project?".
Sean says: "After two months, we'd won so much business, we didn't have enough staff to do it all.
"So we had to close the gates of signing clients to find the people. Then we built a team really quickly. Then we had the problem where we hadn't been selling, so no clients came in. So we just kept having this yin and yang."
Fortunately for Sean and the team, they managed to get the balance right between clients, employees and profits: "We've found a steadier space in there now," he says.
Essential tip
Hiring the right staff and getting the numbers right can be tricky. Rather than committing to employing people on a permanent basis immediately, you could try taking people on as contractors or on a freelance basis first.
That's what Sean and his team did. He says: "We hired people based on contract, based on the work that we won, so we were heavily freelance early on."
The outlook is good for Hoxo Media
Today, the business is in a good place. Having relied on freelancers in the early days, Hoxo Media now has a team of employees and a strong client base. And the business is turning a profit too – "But we're re-investing that money back into the business," says Sean.
Sean Anderson on his 3 business advice takeaways
With more than a year in the business game, Sean might still be new to running his own firm but he's learned a lot about what's required to survive and succeed. Here are his top takeaways:
1. Don't overthink it – take action
"I know, you hear it all the time, but genuinely like, I probably thought about setting up a recruitment company for two years. Something stopped me because genuinely there was a passion but something was missing.
"The second I knew I wanted to do this, nothing could stop me and I just went for it. And whatever you don't know, you'll learn. You learn by taking action, so I'd just say: 'Go for it.'"
2. Surround yourself with good people
"Upgrade your environment. If you're surrounded by people who are negative and don't have the same drive or the same abilities to push, you're going to hang around with those but then you're going to end up being like them.
"Whereas I surrounded myself around great people – my two business partners have the same drive as me. Everyone who we've hired basically came in and ultimately worked for free for a period of time so they showed their commitment. We've got an unbelievable drive in the team.
"If you surround yourself with other people, even if they don't work with you but they've got a similar mindset, it can massively help."
3. Don't focus on what goes wrong, it's how you react
"My previous owner of a recruitment company said to me: 'It's not what goes wrong, it's how you react that's most important.' And every day, something goes wrong. Every single day. If I don't get to work with three problems arising, it's not a normal day, right?!
"I would have previously flapped and panicked, worrying 'what's going to go wrong?'. When in reality, if you stay calm and you think pragmatically about how you can solve problems, there's almost always a way out."
How to start a business – your free guide
Starting a business? Our essential guide is packed with straightforward advice on everything from planning to launch.
Get your free guide
Subscribe to the Sage Advice enewsletter
Join over 500,000 UK readers and get a roundup of our best business advice in your inbox every month.
Subscribe now